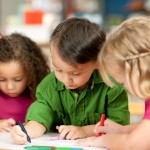 Improve behavior
Parents are frequently referred to this office to gain richer understanding of children's behavior and to consider therapeutic strategies to support more positive and productive behavior. Children with severe behavioral issues such as self-injurious behavior and aggression toward others are typically seen by other agencies. Children with self-regulation, attention, organization and executive functioning issues are representative of some of the clients we invite into this practice. We may recommend co-treatment with a second clinician specializing in a complementary professional area.
---
Auditory- and Visual-based programs for people with difficulty regulating attention, concentration, and memory, or with other information processing, reading or learning difficulties, emotional or behavioral problems, or delays in speech and language development.
Play Attention is an integrated attention training system employing brainwave monitoring, cognitive skills exercises, and behavior shaping techniques.